P-3 Orion Research Group
The Netherlands
this page was last updated on 28 November 2017
© P-3 Orion Research Group / 1997 - 2015
Lockheed Martin P-3 Orion Worldwide News Section
United States

On 8 September Selfridge AIr National Guard Base was called on to assist with the evacuation of military aircraft from regions being affected by massive storm Irma. P-3C Orions and P-8 Poseidons from NAS Jacksonville were seeking refuge at Selfridge, and remained there for several days while evacuation orders were in effect. Hurricane Irma slammed Jacksonville with historic flooding on 11 September. Noted arriving at Selfridge were BuNos 158564, 161333 and 161590 of VP-62. Other P-3C were flown to Wright Patterson AFB, Ohio: 156515, 158225, 162770, 163290 of VP-30. Former VP-30 P-3C 156515 made her last flight from NAS Jacksonville to Hickory (NC) Aviation Museum on Wednesday, 20 September. The following P-3C were seen at NAS Jacksonville during the Open House on 4 November: 158225, 160293, 160770, 163290/LL of VP-30, 161121, 161127, 161415 of VP-62 and 163293/PD of VP-9.

From 27 to 31 August a VP-9 (PD) Orion participated in two interoperability activities with the Royal Malaysian Air Force. The two exercises, Southeast Asia Cooperation and Training (SEACAT) and Malaysian Subject Matter Expert Exchange (MY SMEE), were designed to enhance cooperation between U.S and Malaysian forces. Early September VP-9 sent P-3C 158222 from Kadena to Indonesia to participate in the annual CARAT exercise with the Indonesian Forces. Both countries are partner nations working together to enhance maritime security in the Indo-Asia-Pacific region for 23 years. VP-9 returned from its final deployment in the P-3C to its new home base NAS Whidbey Island on 27 September following the seven month dual site deployment to Japan and El Salvador. In November VP-9 began the transition from the P-3C to the P-8A Poseidon. It is the ninth squadron to do so, with three more to follow. Orions of VP-9 noted at CSL Comalapa in El Salvador during the last P-3 deployment were BuNos 158922/PD, 161413/YD and 162771.

VP-46 (RC) returned to NAS Whidbey Island after a six month deployment in the 5th, 6th, and 7th Fleet areas of responsibility (AORs), on 23 October. While forward deployed, the "Grey Knights" simultaneously operated from four expeditionary detachment sites in Bahrain, Japan, Turkey, and Djibouti, where they provided intelligence, surveillance, and reconnaissance (ISR), and conducted anti-submarine warfare (ASW). The squadron flew hundreds of missions in support of Operations Inherent Resolve in Iraq and Syria and Restoring Hope in Yemen.

During October VP-40 (QE) has replaced VP-46 at Shaik Isa AB in Bahrain and NAF Kadena in Japan. Deployed in the Middle East are 158224, 159326, 161132, 162776 and 162998, while at Kadena are 161596 and 163291. Also deployed at Kadena are four P-3C of VP-69 (PJ) 158210, 161404, 162777 and 163004. VP-40 and VP-69 are now the only US Navy P-3C squadrons deployed around the globe.

Several EP-3E of VQ-1 including 156511,157318, 157326 and 161410, are also deployed to Kadena, Souda In Greece and the Middle East. VPU-2 has also two of their SPA Orions deployed in the Middle East and Asia, one of them is coded 610, while another SPA coded 588 was seen on US National television during the President's visit to Hickam AFB on 3 November 2017.

During September/October 2017 a large number of P-3 Orions were taken out of storage at AMARG Davis Monthan AFB only to be scrapped by HVF West (a local scrap metal company). These were mostly wingless examples. The following 22 Orions were involved: P-3A 149670, 149673, 151375, 151379, P-3B 152738, 152755, 154584, P-3C 156512, 156526, 159886, 160612, 160765, 160766, 160767, 160768, 160769, 161128, 161130, 161131, 161336, 161340 161592.

NP-3C 153442, a former Bloodhound, which arrived at AMARG in June 2017 has already departed Davis Monthan in September and is reported to have gone to the US Customs, or Dept. of Homeland Security / Customs and Border Patrol (DHS/CBP) as they are called nowadays.

On 16 November NASA P-3B N426NA was involved in the search for an Argentine submarine ARA San Juan, which went missing in the Golfo San Jorge off the coast of Patagonia. Contact with the submarine was lost on 15 November, while the vessel was operating off the country's southern coast with a crew of 44. The NASA Orion was visiting Argentina while involved in ice missions over Antarctica, in a program called Iceberg.


Argentina

As reported before, the final flight of a P-3B of the Argentine Navy already took place during April 2013. So for the search for the lost submarine the country did not have a P-3 available and had to rely on the NASA P-3B, a Brazilian P-3AM and Casa 295, a US Navy P-8A and an RAF Hercules. The P-8A of VP-5 came from CSL Comalapa in El Salvador.


Australia

In December 2016, 11 Squadron stopped operating the AP-3C Orion and started its transition to the P-8A. For this reason we have transferred six AP-3C in our Aircraft Location History Report to 10 squadron. During October 2017 AP-3C A9-664 of 10 Squadron visited NAF Atsugi in Japan. This is the Orion with the special 11 Squadron markings. We are not sure which squadron operates the two ELINT AP-3C A9-657 and A9-660.

AP-3C A9-658, is presently stored at RAAF Base Edinburgh where it is used by No 292 Squadron as a static training device. It took 18 months to get the 292 tail flash painted on.

On 2 November AP-3C A9-753 was handed over to the Historical Aircraft Restoration Society (HARS), with Chief of Air Force, (and ex-11 Squadron man) Air Marshal Leo Davies AO, CSC doing the honors for the RAAF. AP-3C A9-659 was also in attendance. A9-753 will be the world's first privately owned flying exhibit P-3 Orion! 753 had a number of claims to fame, not the least of which is that it still has flying hours on the airframe and engines. In a heritage assessment undertaken in October 2012, AP-3C A9-751 was identified as the most historically significant airframe while A9-659, similarly with significant historic value, is likely to become part of the Australian War Memorial's collection.

On 23 October Australian defense minister Marise Payne met with the crew of AP-3C A9-751 of 11 Squadron to thank them for their participation in the five-month long siege in Marawi City in the Philippines. Australia had pledged to send two of its surveillance planes to help in the Marawi crisis nearly a month after fighting between government troops and ISIS-linked terrorists started on 23 May. When A9-751 returned to Edinburgh on 1 November 2017 it was on its final flight after 39 years, 9 mnths, 14 days and 16,699.7hrs. It was transferred to the RAAF Museum at Point Cook for static display on 16 November 2017.


Canada

A CP-140 Aurora arrived in Barbados on 15 September 2017 as part of Operation Renaissance IRMA MARIA-the Canadian Armed Forces mission to support hurricane relief in the Caribbean in response to the aftermath of Hurricane Irma. The Aurora, which came from 407 Long Range Patrol Squadron out of 19 Wing Comox, BC, had the task of capturing aerial imagery to support partner nations in their relief efforts. While deployed in the Caribbean, the Aurora flew more than 37 hours, collecting valuable imagery that enabled partner nations to help people in need. The Aurora returned to Canada on 24 September, once its mission was completed.

On 27 August 2015, 14 Wing CP-140M 140103 was badly damaged when it ran off the runway at CFB Greenwood, during take off. It was decided to repair the Aurora and after two years 140103 was first noted again at RAF Lossiemouth in September 2017.


Germany

On 1 November Lockheed Martin received a $158.5 million contract for the second phase of the German Navy P-3C Mission System Refresh program. The program will upgrade the mission system processing suites on the fleet of eight P-3C Orions to support operations through 2035. The Mission System Refresh is part of an overall fleet upgrade that includes structural mid-life upgrades as well as an upgrade to the Instrument Flight Rules (IFR) cockpit capability. The Germany P-3C Orion Mission System Refresh Program will include the design, development, manufacture, integration, installation and test of the Lockheed Martin Airborne Tactical Mission System. The majority of the hardware and software design, manufacture and upgrades will be performed at Lockheed Martin sites in Owego, New York, Manassas, Virginia and Marietta, Georgia. The program began in 2016 when the U.S. Navy awarded Lockheed Martin an initial Foreign Military Sales (FMS) contract for $54.9 million for design and development work through Preliminary Design.

P-3C 60+06 attended this year's air show at Malta Luqa airport on 23 September. Recently delivered P-3C 60+02 was photographed on 27 October far away from Nordholz, at Salvador International Airport in Brazil. This is the home base of the Brazilian P-3AM of 1°/7° Gav. The visit was a squadron exchange during which the Germans and the Brazilians performed several joint exercises to practice synergies and develop new tactics and procedures in order to fine tune the use of the Orion and her doctrine.


Greece

Lockheed Martin has selected Rockwell Collins' Flight2 integrated avionics system to bring the Greek Navy's P-3B aircraft into compliance with upcoming mandates for unrestricted global airspace operation, the company announced on 23 October. The Flight2 integrated avionics upgrade will convert the flight deck into an all-glass cockpit, making for easier viewing of critical information on the primary and multi-function flight displays, and the engine instrument display system. The system also includes integrated communications and identification friend or foe Mode 5 five capabilities to ensure mission readiness. The Flight2 system is built on architecture compliant with communications, navigation, surveillance and air traffic management systems, supportable and sustainable to meet current and future aviation requirements.

An article in the December issue of Air Forces Monthly contained some interesting facts about the rebirth of the Greek Orions. Following contract signing, two of the P-3B at Elefsis received the required maintenance to make them sufficiently airworthy for the short flight to HAI's facilities at Tanagra. Flown by Lockheed Martin pilots, the first P-3B 152744 departed Elefsis on 13 July 2016, followed by 153441 just a few days later. Following the delivery to Tanagra a ceremony at HAI on 25 July, officially confirmed the upgrade had begun. In February 2017 it was announced that the first two Greek pilots would start their training program in the US as test pilots/instructors. Their initial training began in San Antonio, Tx. before moving on to NAS Jacksonville. After seven months the pilots were expected to return to Greece in September 2017 following which 353 MNAS would re-form at Elefsis as part of 112 Combat Wing. If 353 MNAS has been reformed as planned is not yet confirmed.


Japan

On 30 October two P-3C of 2 Kokutai visited INS Hansa and carried out a goodwill exercise with Indian Navy P-8I at the western Indian Ocean. In the exercise they conducted ASW and Communication training. Through the exercise, the JMSDF promoted mutual understanding and relationships with the Indian Navy and improved tactical capabilities. These were probably the two DAPE Orions 5045 and 5060 returning from Djibouti. According to an Indian TV report: "For India, these exercises are particularly significant since it allows the Navy to "assess the performance of the P-3 aircraft which has been used by the Pakistan Navy for decades as its primary anti-submarine platform"

At Djibouti another squadron change took place late October when 5051 and 5062 of 1 Kokutai arrived. This is the 29th detachment (DAPE) while the 28th detachment was by 2 Kokutai with P-3C 5045 and 5060. DAPE stands for Deployment Air Force for Counter-Piracy Enforcement.

3 Kokutai at Atsugi lost its final two P-3C Orions on 29 August 2017 and is now an all P-1 equipped squadron. 5093 left for 5 Kokutai while 5094 was transferred to 2 Kokutai. Earlier 5055 had left for 2 Kokutai on 4 April, while 5095 went to NIPPI for maintenance in February 2017.


New Zealand

Swedish company SAAB is still pushing its Swordfish maritime patrol aircraft as a replacement of the P-3K2 Orions. The aircraft is based on the Bombardier Global 6000 business jet. However, the US State Department has already approved the possible Foreign Military Sale of four P-8A Poseidons.


Portugal

P-3C CUP+ 14809 arrived at NAS Sigonella on 31 October to participate in Operation Sophia 2017 which is a EUNavFor Med operation with a mission to disrupt the business model of human smuggling and trafficking networks in the Southern Central Mediterranean and to prevent the further loss of life at sea.


Spain

On 9 November the Spanish Air Force said goodbye to P-3A P-3A-1 coded 22-21, the former BuNo 152153, which has been in Spanish service since August 1973. Luckily this old lady will not be scrapped. She was flown to Cuatro Vientos Airbase near Madrid where it will be put on display in in the Museo del Aire.


Taiwan (Republic of China)

The Air Force announced in November that Taiwan will hold a ceremony in December 2017 to commission the 12 P-3C which were acquired from the United States to boost its anti-submarine warfare capabilities. It was in January 2011 when we last produced a review of these 12 Orions although none of them had been delivered at the time. For those of you who missed that review, this is the rundown:
© P-3 Orion Research Group / 1997 - 2017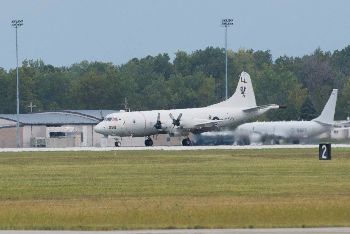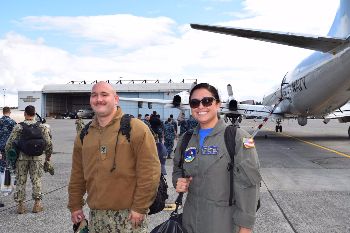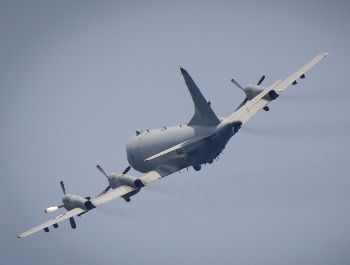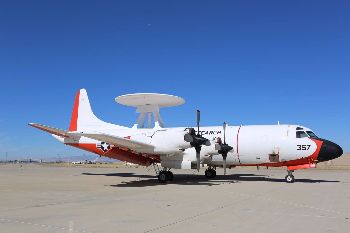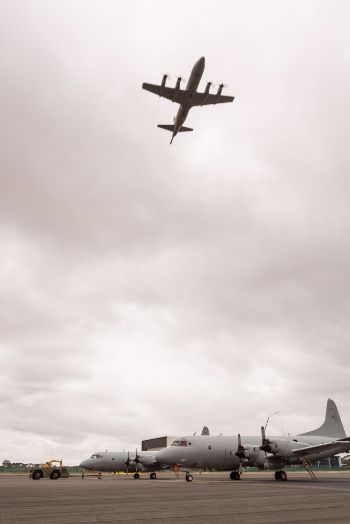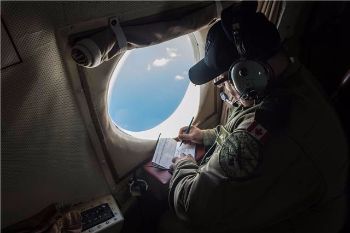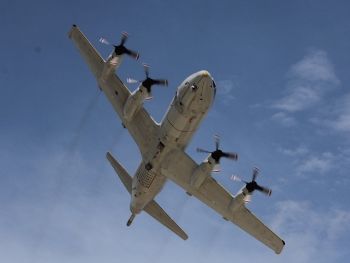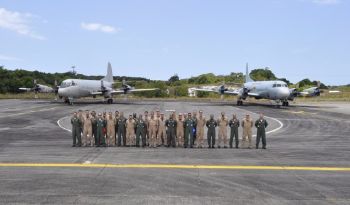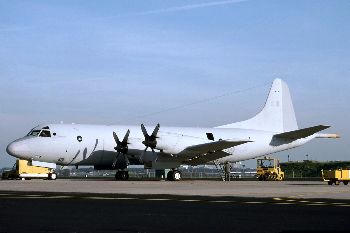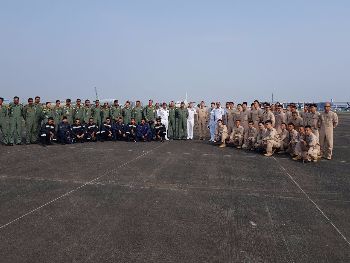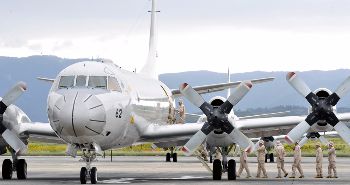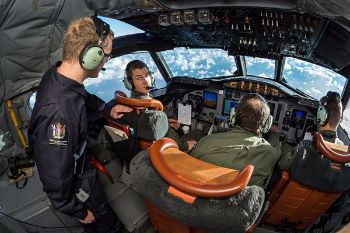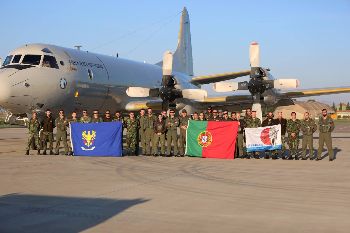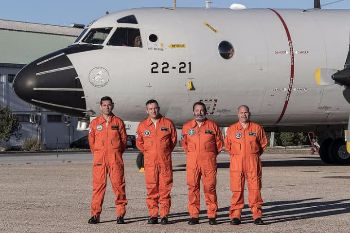 | | | | | |
| --- | --- | --- | --- | --- |
| serial | c/n | BuNo | delivered | squadron |
| 3301 | 5585 | 158913 | 17dec13 | 33 |
| 3302 | 5575 | 158566 | 10jan14 | 33 |
| 3303 | 5617 | 159327 | 25sep13 | 33 |
| 3305 | 5592 | 158920 | 09dec13 | 33 |
| 3306 | 5529 | 157314 | 21feb14 | 33 |
| 3307 | 5611 | 159321 | by apr14 | 33 |
| 3308 | 5609 | 159319 | by aug14 | 34 |
| 3309 | 5605 | 158933 | by apr15 | 34 |
| 3310 | 5581 | 158572 | by dec15 | 34 |
| 3311 | 5552 | 158207 | by mar16 | 34 |
| 3312 | 5536 | 157321 | by dec16 | 34 |
| 3315 | 5649 | 160286 | 07jun17 | 34 |